Our retreats are open to anyone who practises the TM technique (as taught by Maharishi Mahesh Yogi) or anyone who has learned it and would like to resume their practice. Details of all retreats can be found below.
Alistair is a very experienced teacher of TM, who studied with Maharishi in Spain and Switzerland and has been teaching meditation and running meditation centres and retreats for thirty years. He is also an authority on Vedic knowledge, lecturer and author; among his publications are translations of the Sanskrit texts: The Yoga Sutras and The Upanishads. His renowned retreats are structured so that maximum revitalisation comes from easily following a routine of extra meditations, deep rest, walks, group meetings with access to Maharishi's profound knowledge, early nights and much laughter!
Charney Manor, in the beautiful Oxfordshire village of Charney Bassett, is owned by the Quaker movement, and has proved to be just the right venue for periods of meditation and deep rest. A Grade 1 listed building, it was originally part of the medieval Benedictine abbey of Abingdon – the main meeting room dates from 1260 – so the atmosphere is very suitable for us, tranquil and nourishing.
These retreats are structured so that maximum benefit comes from following an easy routine of meditation, rest, walks, group meetings with access to Maharishi's profound knowledge, early nights and – much laughter!
Come and restock energy, vitality and positivity. The beautiful setting, the power of the collective meditations and Vedic wisdom and also the wonderful food, make a trip to this lovely part of Oxfordshire a uniquely worthwhile investment.
Food is vegetarian with vegan, gluten free and dairy-free available on request. Any other requirements can be brought.
Set in 18 acres of beautiful and peaceful grounds, Park Place is a fine old Georgian house (Grade 2 listed) close to the Hampshire village of Wickham. It is run by a small community of the Sisters of St. Mary of the Angels, Franciscans from Kerala, Nourished by its tolerant and open approach to spirituality the place has a lovely atmosphere, and has become well-known for its distinctive blend of Eastern and Western traditions.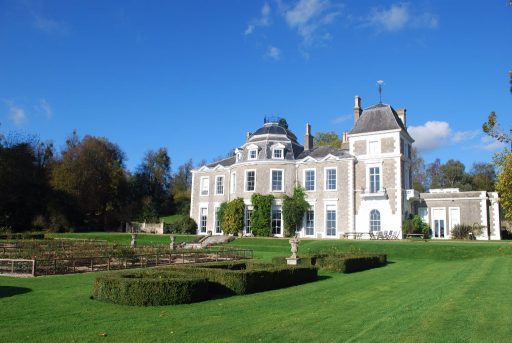 Oxon Hoath is a stately home dating from 1372, when Sir John Culpepper, one of Henry 5th's Knights, established the site as a royal park for the kingdom's oxen and deer. Set in 73 acres of ancient trees, romantic gardens and hidden walks, it offers perfect peace and tranquillity with lovely views over the Kent countryside, yet is only 45 minutes from central London.
I'm writing to send you a heartfelt thank you for all the knowledge and wisdom I've received from you. You have really been instrumental in enabling and enhancing my understanding of life's big questions. We all owe a huge debt to Maharishi, and I will never forget that. But I also owe a substantial debt to you, for patiently answering my endless questions, and for your books. It really has helped me to get my head around some difficult issues. And you've helped hundreds of others in the same way.
Very many thanks from me, everyone who was at the weekend, and the Inner Yoga Trust, for your wonderful teaching at Earth Spirit last weekend. It was a privilege for us all to learn from your wide and deep knowledge. I think we will all feel the effects of your teaching in our practice for a long time to come. Everyone I spoke to really enjoyed the weekend and got a lot from your teaching.
What a lovely resetting and calming few days – thanks.
Thank you for a super retreat it was a lovely weekend and did help my understanding of a number of subjects. 
Thanks so much for a wonderful course – one of the best rounding courses I have been on. It was such a nice group of people you have gathered together. 
I just wanted to thank you for a great weekend of meditation and relaxation. I found the whole weekend very enjoyable and the talks very informative. I could listen to you all day. I'm already looking forward to next year and trying to work out how I can stay the extra day or two.
Alistair's day course is extremely informative and inspiring. He is an amazing gifted teacher with a vast amount of knowledge which, he delivers in an informative, relaxed and easy to understand style. Love his sense of humour and I came away wanting to know more and to delve in deeper with a greater understanding. Gratitude Alistair
'A special thanks for the Charney retreat, I enjoyed it immensely…a few magical days of fullness and joy'
'Thank you for a very special retreat. So good to spend time with you and to see old friends. I have come away feeling nourished on many levels'.
'A special thanks for the Charney retreat…a few magical days of fullness and joy'